Exhaust Parts by Dorman

From now on you don't have to whistle for a wind until your dealer delivers the right exhaust parts for your vehicle. We offer an alternative which you won't be able to resist - original replacement exhaust parts by Dorman. These aftermarket parts have a perfect quality and a reasonable cost. And most importantly - you will get them in no time!
Who are the 'Dorman'? How long have they been at the market? What have they achieved so far? Here are a few facts about the manufacturer of the products you will once try for your car and want to use for good.
Dorman
This company has been in the automotive market ever since 1918. Since then they have been delivering merchandized replacement parts and repair solutions. For the sake of staying one of the leading makers of car aftermarket products Dorman has remanufactured from a dealer of hard parts to a provider of automotive hardware. Today Dorman also supplies high quality full coverage brake hardware and hydraulics at a low cost. The official website of Dorman is http://www.dormanproducts.com/
Dorman products
Among the most popular products you can try a variety of exhaust parts such as Dorman exhaust manifolds, replacement mufflers, exhaust manifold crossover pipes, exhaust mounts and many other items.
Depending on a car make there is a great deal of Dorman exhaust parts for every budget. The price ranges from a few dollars to over a few hundreds per article. But no matter how much you pay for your Dorman purchase, you get your aftermarket parts on time and much faster than the ones from the dealer whereas the quality remains on top.
Exhaust system is an essential part of every vehicle, and if you wish to improve your car's performance - that's the area to look into. High quality exhaust and its replacement parts will completely modify your automobile. Dorman manufactures such components as exhaust manifold and exhaust manifold crossover pipe which both perform faultlessly and do not cost a fortune. At the same time these products conform to the US EPA exhaust emission standards.
Let's look closer into some of the exhaust parts in general and Dorman exhaust parts in particular to understand how they work and really impact car owner's everyday life.
Dorman exhaust manifold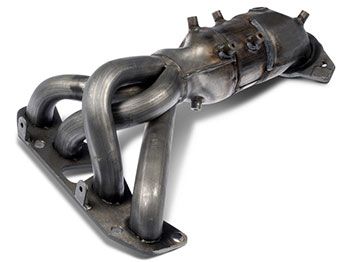 According to Wikipedia, this part of exhaust gathers all exhaust fumes from various cylinders in a pipe. There is one more kind of a manifold (not to confuse!) - an intake/inlet manifold which is a part of an engine. Its role is to supply the air to the cylinders.
Normally exhaust manifolds are made of stainless steel or cast iron which gather exhaust from the engine in various cylinders, and then send it over to the exhaust pipe. Aftermarket parts such as the ones manufactured by Dorman are made of stainless steel tubing or mild steel. This material is used for the primary tubes together with flat flanges. A collector with a bigger diameter is built with a material very much alike to the primaries. Exhaust manifolds may be covered with a ceramic-type finish coat, painted with a finish resistant to the heat, or left as it is. One more way to modify both an aftermarket and a regular exhaust manifold is to isolate them. By that we reduce the heat intensity entering inside the engine bay and thus decreasing the intake manifold temperature.
The reliability of an exhaust manifold in a vehicle is vital - if the gas goes the wrong way, it may not only cost you an engine, but also your own life. When everything works fine, exhaust fumes go out through the exhaust pipe out into the air. However, when there is a defect somewhere in the exhaust system, the fumes may get right into the engine compartment or the driver's cabin. You can't let this happen, and therefore Dorman is the right choice.
Dorman exhaust manifold crossover pipe
The primary role of the exhaust manifold crossover pipe in a vehicle is routing hot exhaust fumes from the front to the back of the cylinder bank of V6/V8 transverse. It moves along from the front exhaust manifold over transaxle to the back manifold. Then it gets connected with the remains of the exhaust system.
Whenever there is a fault or a deformation in the original unit (because of the high temperatures and vibrations) they result in exhaust leakage. Dorman produces dependable exhaust manifold crossover pipes which you can count on for years. A special Dorman Program covers 3SKU's and consists of all the necessary hardware and gaskets.
Dorman Store
You can order all kinds of replacement exhaust parts by Dorman for your vehicle at CARiD. They will be delivered to you on a timely basis and at a reasonable cost.